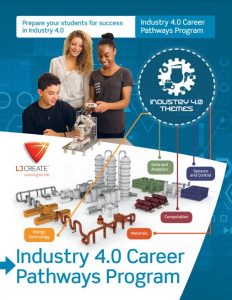 The Industry 4.0 Career Pathways Program is designed to provide students with an introduction to Industry 4.0 concepts and applications across multiple industry sectors.
Students have the opportunity to explore topics such as sensors and control, data analytics, and the efficient utilization of resources.
The Industry 4.0 program will provide students with the expertise they need to succeed at college, in industrial skills programs, and industry certification courses.
Click here for more information about the career areas and to view the lab resources.
 See what others have to say about this exciting program!
Or just click on the image to the left to download the program PDF.