Create Custom Lessons with the Content Creator
It is now possible to add your own learning content to the ClassAct II system. After creating your own lessons, you can modify one of the LJ Create courses to include them, or make your own custom course from your content.
Two content types are available:
Assignment — What one would typically think of as a lesson, the assignment creator can be used to collate and display your own text and images, or link to external learning resources.
Assessment — Use the ClassAct II assessment tools to quickly put together professional-looking assessments. Your assessments will be scored just like any other assessment on our system allowing your students to get instant feedback and allowing you to quickly generate reports showing their progress.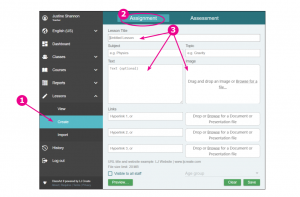 Importing SCORM
Lessons in SCORM 2004 and 1.2 standards can now be imported to the system as ZIP files.
Multiple SCORM packages can be imported in one process and each one will be converted into an assignment lesson for use in a custom course.
For more information, training, or technical support please contact us at 1-800-237-3482.