Our online LMS is updated and improved on a continual basis. ClassAct II now includes the following features:
Create your own Lesson Materials (Assignments and Assessments!)
It is now possible to add your own learning content to the ClassAct II system. After creating your own lessons, you can modify one of the LJ Create courses to include them, or make your own custom course from your content. Take a look at the step-by-step instructions in our LMS User Guide.
Create Timed Assessments
ClassAct II now has the facility to set a duration when creating your own assessments. This will allow you to set a time limit for students when completing a test. You can enable this feature when making or editing a custom assessment (Lessons > Create).
Create Scheduled Courses
It is now possible to make custom courses accessible to students from a specific date and/or for a set duration. For more information regarding this new feature, please refer to our FAQ page.)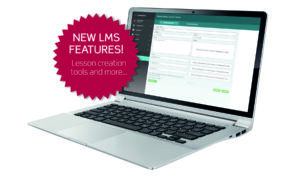 ---
Not an LMS User?
You can sign up to a free trial of ClassAct II – take a look at some of the lessons available in our Automotive and Engineering licences.